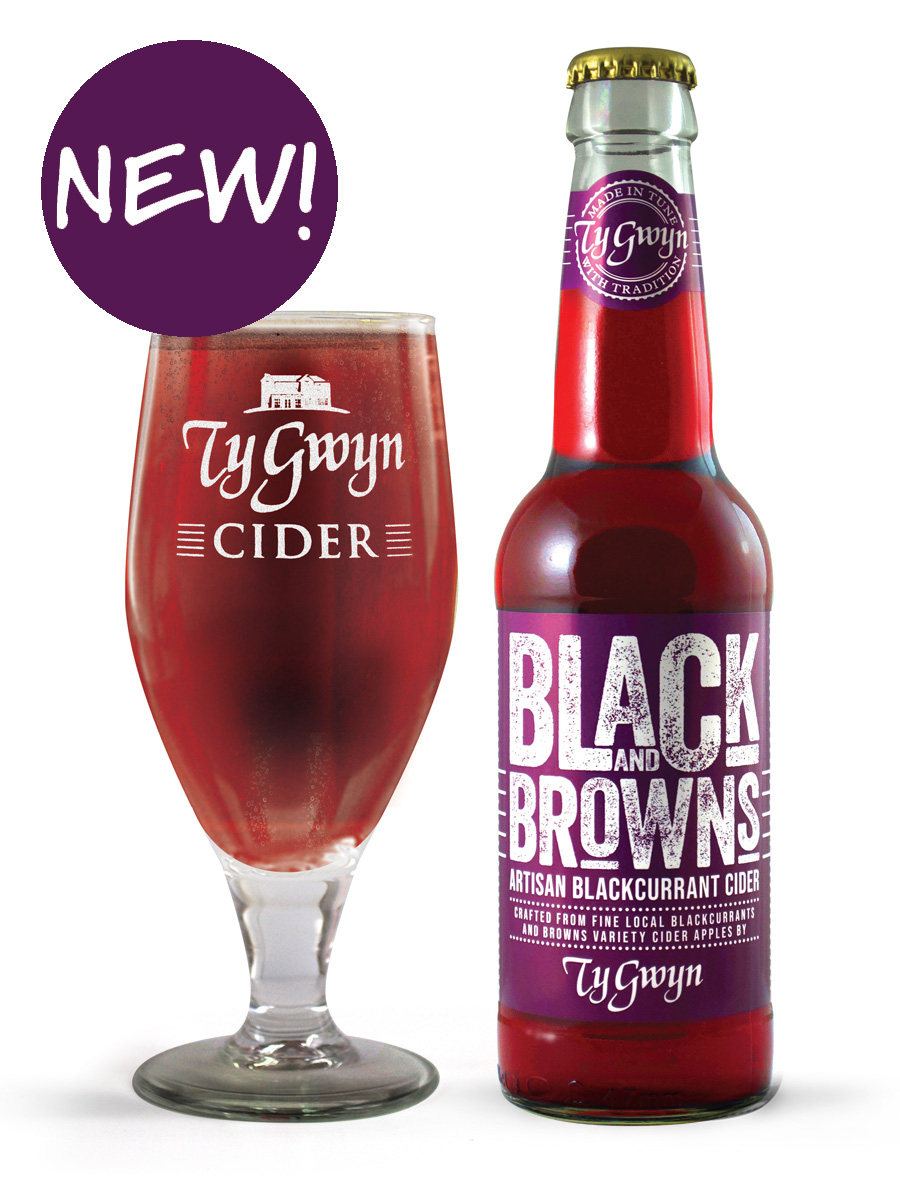 Ty Gwyn 'Black and Browns' Artisan Blackcurrant Cider
Fruit ciders are usually sweet, undemanding numbers with little or no reward for the true cider lover. So I decided to shake things up by producing a genuine artisan fruit cider – and here it is, Ty Gwyn 'Black and Browns'! It's a blend of classic bitter-sharp Browns cider apples I pressed myself, along with some truly outstanding blackcurrant juice from a superb local grower. So at long last you can enjoy a fruit cider where the cider doesn't play second-fiddle to the fruit – and where the fruit… well… actually tastes of fruit not flavouring! Order now while stocks last! 4.0% ABV
---
12 x 330ml bottles
Normally: £46
NOW ONLY: £39

(Includes UK delivery)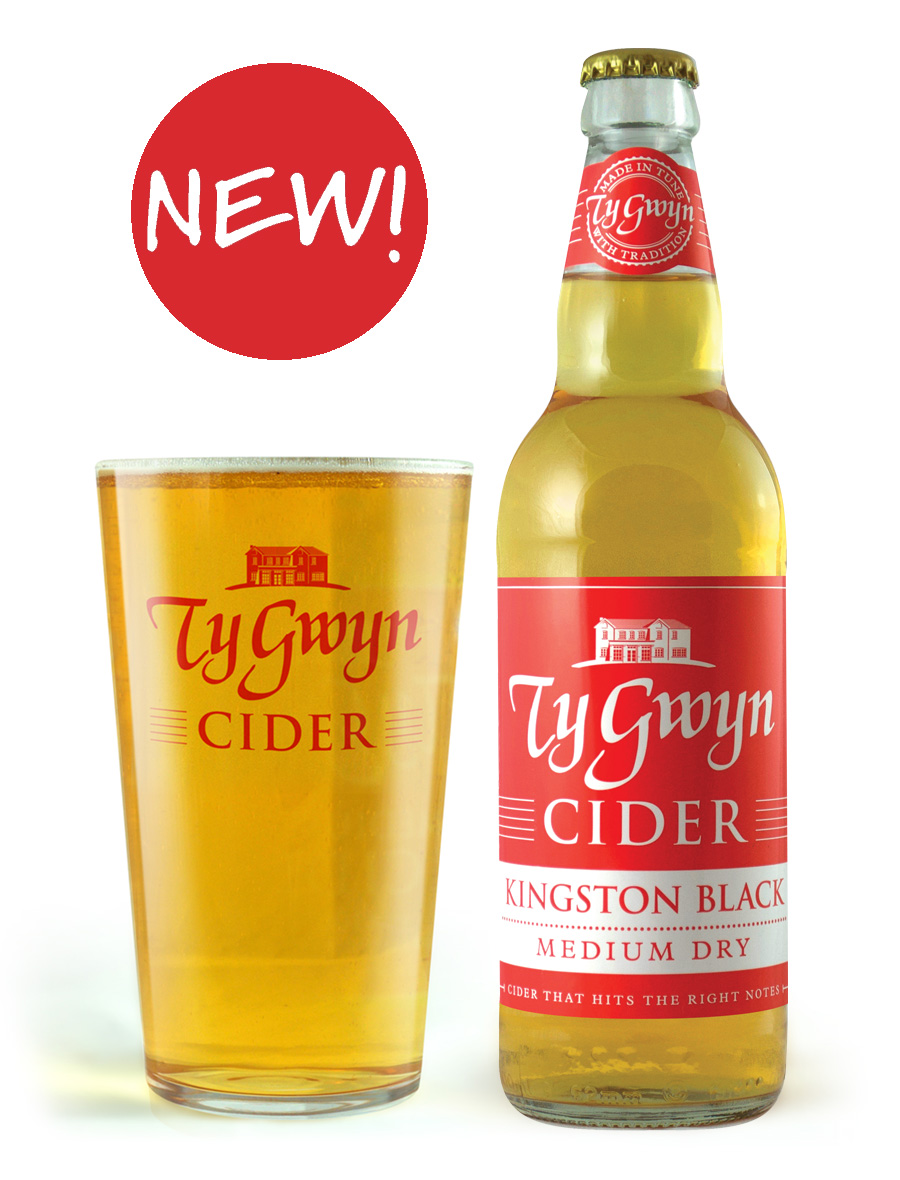 Ty Gwyn Medium Dry Cider
Our previous iteration of this cider won a 2-gold-star Great Taste Award, so this new version is standing on the shoulders of a giant! It features local Kingston Black apples (a variety referred to by cider guru Andrew Lea as "allegedly the perfect cider apple") which fermented beautifully, and helped make this a medium-dry cider that hits all the right notes! 5.8% ABV
---
12 x 500ml bottles
Normally: £46
NOW ONLY: £39

(Includes UK delivery)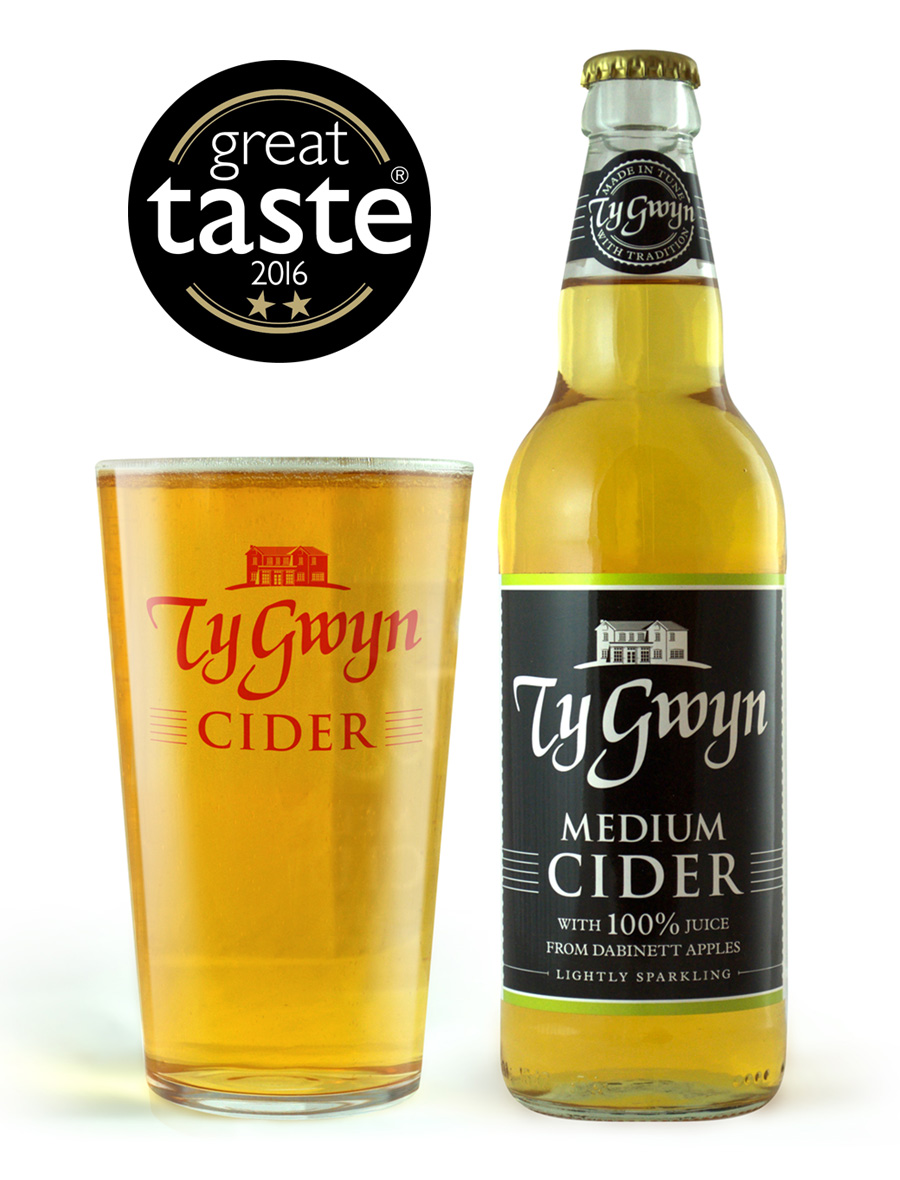 Ty Gwyn Medium Cider
It's strong. It's full bodied. It's the drink that every Dabinett apple wants to become – especially since it bagged a 2-gold-star Great Taste Award in 2016 and then another in 2018! (And where many ciders are lucky to mature for 6 months, this is aged for a year.) 6.0% ABV
---
12 x 500ml bottles
Normally: £46
NOW ONLY: £39

(Includes UK delivery)
Ty Gwyn Medium Sweet Cider
I've used Browns apples to craft this light and refreshing number. With elderflower notes, it's little like an apple version of Prosecco – and is a huge hit with anyone after a slightly more delicate, instantly quaffable cider. Oh, and did we say it has won a 2-gold-star Great Taste Award?! 5.0% ABV
---
12 x 500ml bottles
Normally: £46
NOW ONLY: £39

(Includes UK delivery)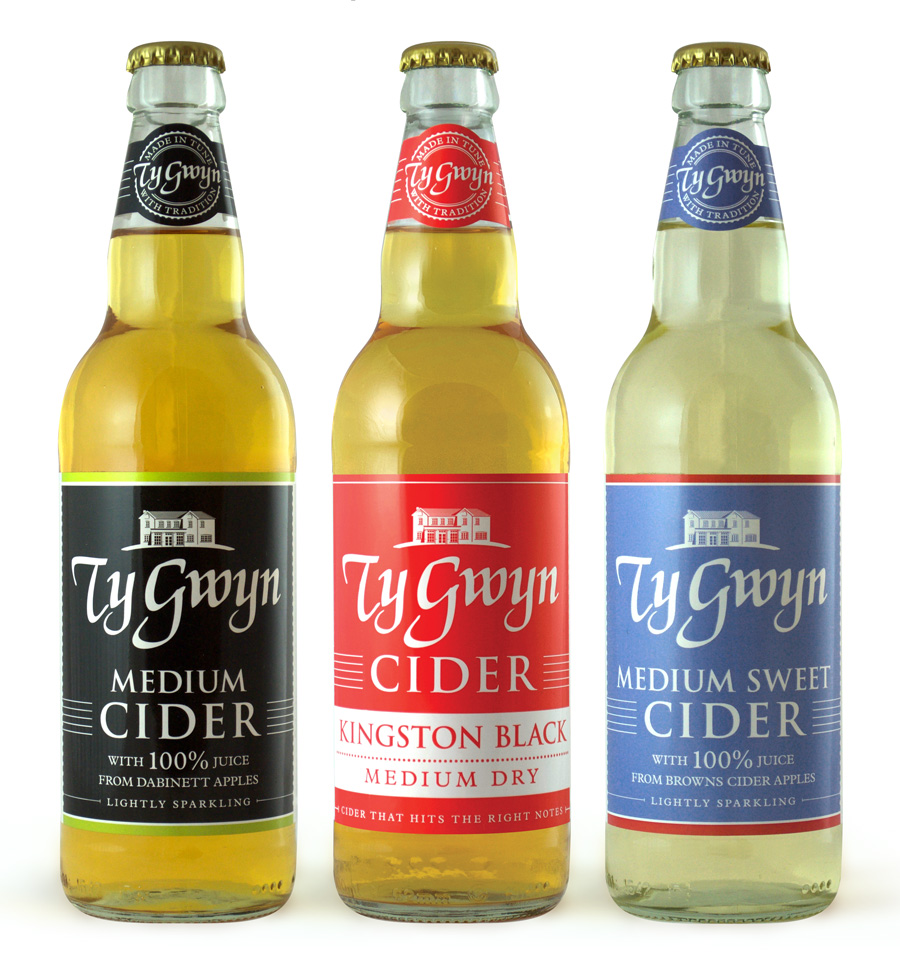 Mixed case of bottled ciders
4 x Medium Cider. 6.0% ABV
4 x Medium Dry Cider. 5.8% ABV
4 x Medium Sweet Cider. 5.0% ABV
---
12 x 500ml bottles
Normally: £46
NOW ONLY: £39

(Includes UK delivery)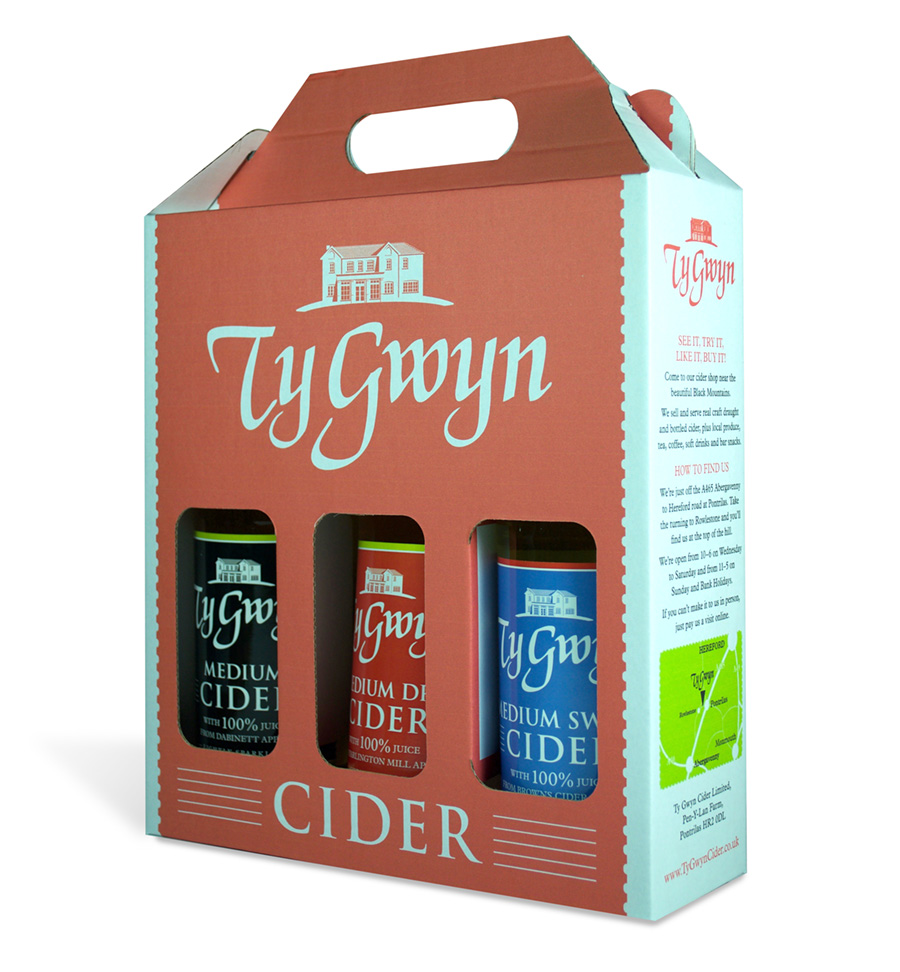 3-bottle gift pack
A smart and sturdy gift pack containing three bottles of Ty Gwyn Cider. Choose a mixed pack containing one of each of our three varieties, or a pack containing three bottles of a single style.
---
3 x 500ml bottles: £25

(Includes UK delivery)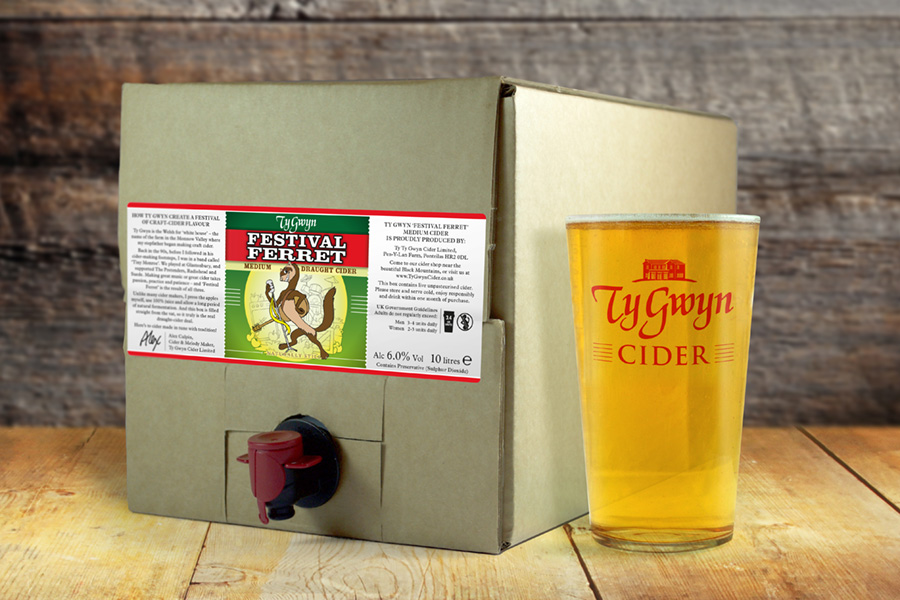 NEW! Mini bag-in-boxes
This is a new 10-litre version of our larger 20-litre bag-in-boxes (as used for serving our ciders and perry in some of the finest pubs in the land).
For the uninitiated, a bag-in-box is like a big wine-box-style container of cider. It features a clever tap to let you pour pints at the press of a button. Stored in a cool environment, the cider or perry inside will easily last 2-3 months, and maybe as long as 6-12 months. (Though once opened, and with a few cider-loving friends round, they rarely last the weekend!)
We take our carefully aged, naturally still Festival Ferret cider or Blakeney Red perry straight from vat, give it a light filtration and fill each box to order. This means you get to taste the purest form of the cider maker's art, made from 100% juice and no messing around!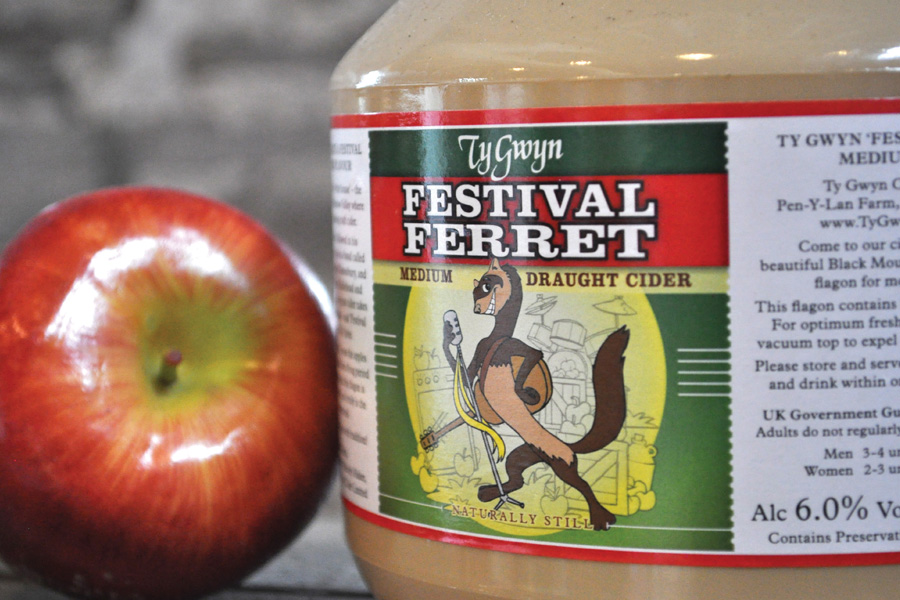 Ty Gwyn Festival Ferret cider
If you're looking for a real crowd-pleasing traditional draught cider, say hello to Festival Ferret.
It's available right here in a mini bag-in-box, or to take away from our cider shop in boxes in flagons. These are filled straight from the vat, so they're the real draught-cider deal!
Medium (Dabinett). 6.0% ABV
Medium Dry (Kingston Black). 5.8% ABV
Medium Sweet (Browns). 5.0% ABV
---
10-litre mini bag-in-box: £45

(Includes UK delivery)
---
20-litre bag-in-boxes
2.4-litre flagons
4.5-litre flagons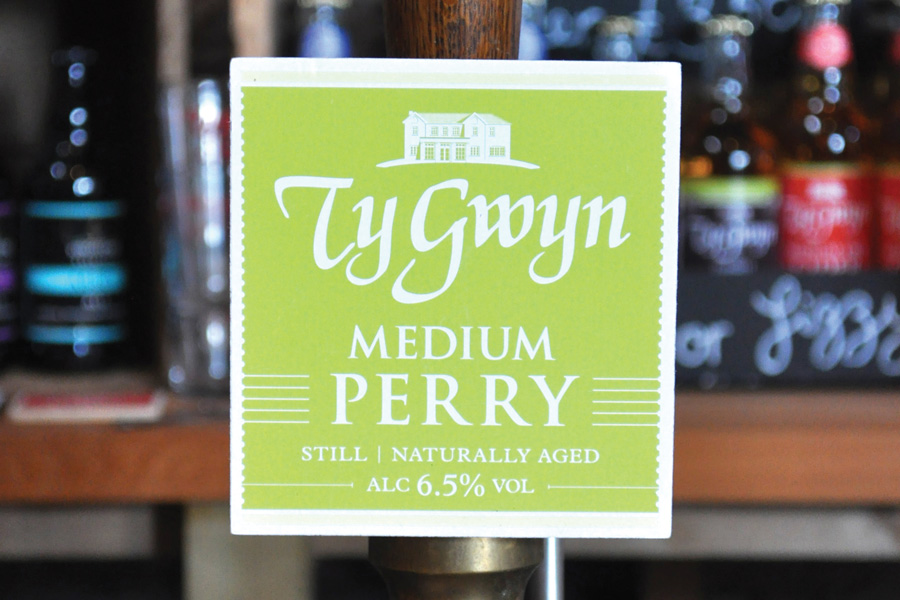 Ty Gwyn Medium Perry
Perry is like the original recording of a song, whereas pear cider – which is usually mass produced and made from concentrate – is merely the karaoke version.
Ty Gwyn Perry is made entirely with the juice of hand-picked perry pears from an orchard owned by a friend of a friend. The scarcity of such pears makes us proud to have used them. 6.5% ABV
---
10-litre mini bag-in-box: £49

(Includes UK delivery)
---
20-litre bag-in-boxes
2.4-litre flagons
4.5-litre flagons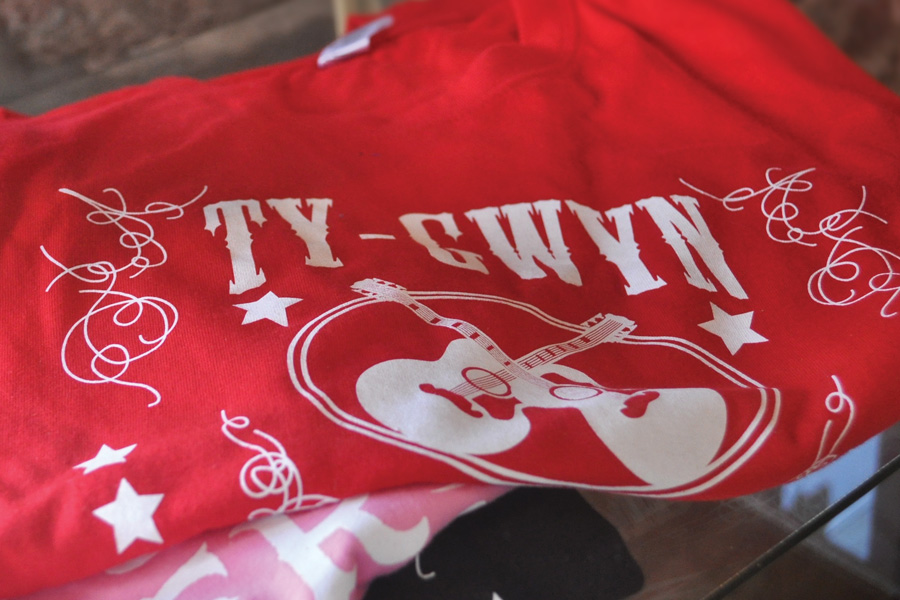 You've enjoyed the cider, now wear the T-shirt!
Ty Gwyn Cider T-shirts are the height of cider-loving fashion. We've a great mix of designs, with styles for men and women.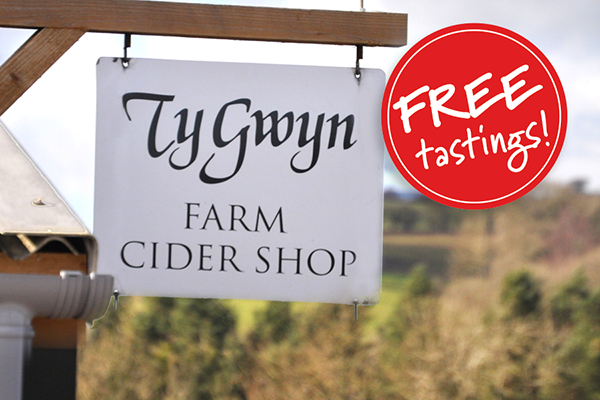 Visit our cider shop and bar near the beautiful Black Mountains
We offer FREE tastings, and sell T-shirts, gifts and local produce as well as our full range of ciders.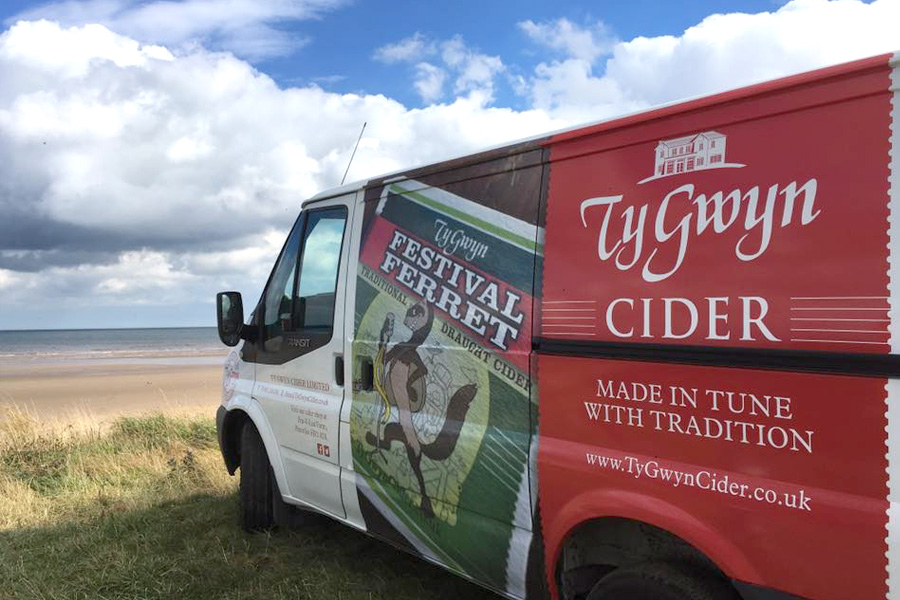 Join our growing number of stockists and distributors
As word about Ty Gwyn Cider spreads, so does demand! Join us as retailer or wholesaler of our ciders.