TyGwyn Cider
---
We are a multi award winning craft cider company founded in the Monnow Valley in Monmouthshire by cider apple grower and acclaimed fruit farmer James McConnel in 2007. Our cider has quickly gained an outstanding reputation and today we are one of the foremost craft cider producers in the country. Our cider is sold in many of the UK's leading restaurants and gastropubs and in Waitrose, who deemed Ty Gwyn the perfect cider for their 'local produce scheme'. At time of writing our cider is sold in three Michelin starred restaurants.

Our apples are the classic varieties of British Cider – principally Dabinett and Vilberie, with Brown Snout and Michelin. We are planning to launch a Ty Gwyn Perry shortly and are planning special limited editions as well as expanding our range with ciders made from other traditional apple varieties.

It is very important to us that we retain our roots in craft cider making and traditional methods, whilst making a delicious cider that can compete against the highest rated premium drinks in the market place. Our cider is not made from concentrate, only the finest cider apples carefully sourced from the best growers. It is naturally fermented for a minimum of six months. If you know your cider you will know that an increasingly small amount of cider producers can make these claims for their cider. We are incredibly proud of this and feel sure that customers will and can taste the difference. In fact it's fair to say that one of our principal missions since we started making cider has been to re-educate the drinks industry and the wider world regarding the benefits of buying into this approach to cider and cider making. The cider we make has qualities that overlap with wine and beer – the fruity distinctiveness and flavour of wine with the quaffability and depth of flavour of today's exciting new small brewers.

We're proud to be a major player in the burgeoning UK craft cider scene. Recognising this was highly respected Beer and Cider writer Pete Brown, who persuaded the BBC to do a food programme special on the real cider movement. Ty Gwyn were heavily featured. Pete also gave us sterling write ups in his books 'World's Best Cider' and 'The Guide to Welsh Cider and Perry'.

Other accolades have come from wine expert Oz Clarke who has supported us since the beginning and star of TVs 'The Hotel Inspectors' Alex Polizzi who said in her 'Little Black Book of Hotels' that "you'll be hard pushed to find a tastier cider than Ty Gwyn".

Other supporters have included TV presenters Kate Humble and Jenni Crane and top chefs Angela Hartnett, Stephen Terry, Simon King, Shaun Hill and Valentine Warner.

NEWSFLASH!
Our 2014 pressing Bag in Box draught/still cider 'Festival Ferret' is now ready to buy/order. We took it to the Ludlow Spring Food Festival where it was ecstatically received. Our new shop near Pontrilas should be open by the end of the month, please contact us for further details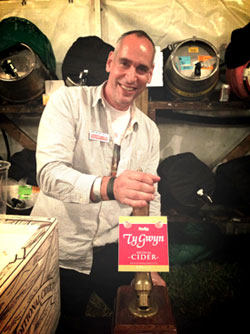 Ty Gwyn is run by former 'Tiny Monroe' bassist and founding member Alex Culpin.
In his words:
"Okay blink and you probably missed us but John Peel loved us at Glastonbury '94, we made the NME and Melody Maker, supported Suede, Radiohead and the Pretenders at the invitation of all three groups and made no. 7 in the Indie chart. Oh and there's a mildly embarrassing clip of us on You Tube from MTV".

Apart from running a cider business, Alex keeps his hand in on bass by playing locally. His other interests include vintage motorcycles and surfing.

Feel free to contact him about any of these interests or of course to natter about cider at alex@tygwyncider.co.uk

Ty Gwyn Cider are currently moving to larger premises and will have a new purpose built cider shop in place soon. In the meantime you can purchase our cider from these specialist retailers (click here).

We welcome trade enquiries and can supply any part of the UK.
Please come and see us at one of the many events we attend each year, please see our events page for further details.