TyGwyn Cider
---
We are a multi award-winning farm cider company based in the Monnow valley in Monmouthshire and have been growing cider apples on our farm since 1969. It wasn't until 2007 that we began making and marketing our own premium farm cider brand Ty Gwyn. Our cider has quickly gained a strong reputation and is served in many of the UK's leading restaurants and gastro pubs.

Ty Gwyn cider is owned and run by two brothers, Ben and Alex Culpin. Ben takes care of production and Alex's department is Sales and Marketing. Alex used to be in a signed 90's indie band and Ben used to work in music publishing.
Ben is allergic to beer, has always drunk cider and possesses a very finely developed cider palate. Alex is a more recent convert to cider but adores it with fine food. If you come to the cider shop here on the farm the chances are you will be served by one or other of them. They are always happy to talk about absolutely any aspect of cider making. Please feel free to contact them with any questions, cider related or otherwise!
We supply Waitrose under their local produce scheme and have attracted high praise from top chefs such as Angela Hartnett, TV presenters Kate Humble and Jenni Crane and renowned food and drink experts such as Oz Clarke.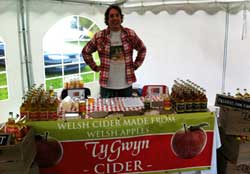 Our philosophy is simple: To expend time and effort on making the highest quality farm cider. To put it simply we love making our cider and are deeply passionate about it. We sell Ty Gwyn cider direct from our own farm shop near the village of Skenfrith (see directions).
We sell to a number of specialist retailers (click here) and welcome trade enquiries.

We'd love to meet you
Please come and see us at our farm shop or go to the events page and visit us at one of the festivals that we are attending. See you soon.
Please contact us for details or click here to order the sublime Ty Gwyn Cider delivered straight to your door