What a year it's been! We hope that despite everything you are OK and remaining afloat. Like all cider makers in our position, it has been incredibly tough for Ty Gwyn. But we're still here, still madly passionate about what we do, and looking forward to putting our feet up for a festive rest ahead of what will surely be a better year in 2021!
---
Looking back . . .
The vast majority of our trade customers are pubs and hospitality businesses (and a relatively small proportion are grocery stores and specialist wine shops) so very few customers have been able to operate as normal. We also depend heavily on tourits visiting our cider shop on our farm in the Black Mountains. So all in all, it's been a very difficult time!
Of course, we've tried to stay positive! We've grown our business through patience and a commitment to absolute quality. 'Slow and steady' is our approach and it has served us well.
Pressing ahead . . .
In October, we took the decision to progress as normal and press 30 tonnes of Kingston Black cider apples. We felt it better to be optimistic and make sure we had plenty of stock ready for an eventual return to normality (even if it means we are holding a fair amount of cider until then). But strong orders from shops and a pleasing ride in online sales helped us feel sure we had made the right decision!
We also noticed that a huge increase in online posts regarding craft cider in the UK during lockdown.
There is no doubt that the 'real' cider scene is still very healthy and will continue to thrive owing to the massive amount of passion, enthusiasm and hard work that sustains it. People now seem to be seeking a certain degree of authentic quality in whatever they consume, and as 'proper' cider makers we are well placed to meet that demand.
Raising a glass to a merry Cidermas . . .
As we head towards Christmas, we're thankful that folk always like to raise a glass or two over the festive period – an opportunity committed cider fans will be sure to grasp with open arms!
As ever, we recommend our black-label Dabinett Medium Cider as the stand out Christmas choice. You would be hard pushed to find a better accompaniment to a mince pie as the cider's appley tang complements the spices to a T. Our mulled cider is available to trade customers ready mixed in 10 or 20-litre boxes.
What's more, to help those wanting to sell this ever popular cinnamon-infused cidery winter delight for take-away, we offer trade customers empty flagons at cost price.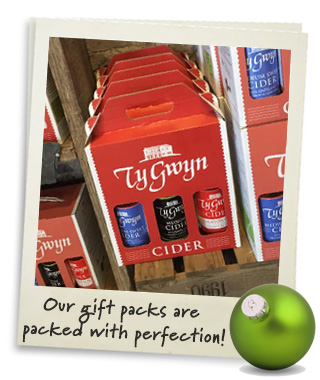 Our other varieties (Kingston Black Medium Dry, Browns Medium Sweet, Blakeney Red Perry, and Black and Browns Blackcurrant Cider) each have their own festive followers. Whether in gift packs or cases, they all make particularly popular presents for cider lovers – and for yet-to-become cider lovers!
Finally, a huge thank you to all who have supported us this year. Your loyalty and commitment means a lot and has been at the core of our survival. We hope so much that next year will see us all in a very different place (preferably with a glass of Ty Gwyn in our hands!).
---
All the best and many thanks

Alex Culpin,
Cider & Melody Maker
Ty Gwyn Cider Limited