Yes, our completely unique Cider Shack and fabulously comfortable Yarlington Dairy cottage are both now available for booking!
---
Over a year of hard work on each of these distinctive (and distinctly different) kinds of holiday accommodation has paid off. If you would like somewhere to stay that's in the sweet spot where Herefordshire's Golden Valley meets Monmouthshire's Monnow Valley and the Brecon Beacons, you should check them out!
The location and the views are, of course, a bit of a winner! (Who wants to stay beside the seaside when you can stay beside the cider farm?!) And with Laura at the helm of Ty Gwyn Holidays as Chief Holiday Happiness Manager it's no wonder that we're already getting great feedback.
The sensational Shack and delightful Dairy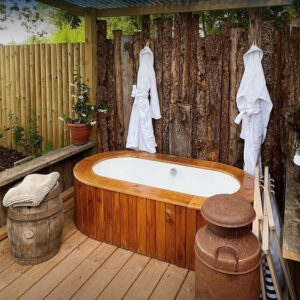 As you may know, our quirky Cider Shack was featured on BBC's 'My Unique B&B'. But since filming, we've added a second hut containing a kitchen, shower and toilet.
The space around the Shack has been landscaped and the famous outdoor bath has gained a carefully positioned roof. (This means you can still stargaze while you soak on a clear night but bathe in comfort even when it's raining!)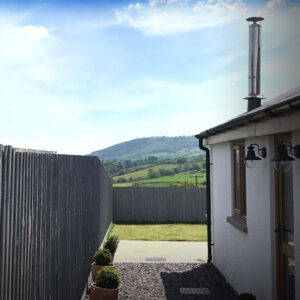 Yarlington Dairy offers boutique cottage accommodation with the privacy of a private garden. The garden is securely fenced-in, so it's ideal if you're bringing your dog (or a baby or toddler that is inclined to wander!).
And you'll be sure to savour sweet dreams in the deluxe bedroom complete with its king-size double bed and a free-standing roll-top bath.
Tasty additions
Guests in the Shack or Dairy can also enjoy our scrummy new Breakfast Baskets and pre-order cider (which we'll pop in the fridge so it's perfectly cool when they arrive).
Find our more about each property over at the new Ty Gwyn Holidays website. You can book directly by calling Laura on 07720 382383 or you can book online at any time via our Airbnb pages.
We look forward to welcoming you!

Alex Culpin,
Cider & Melody Maker
Ty Gwyn Cider Limited