The Cider Shack, our tiny but terrific new B&B was on the telly! It was the focus of the BBC's My Unique B&B on 8 March. While our two little boys (and the dogs) each thought they were the stars of the show, it was great to see and share the story of The Cider Shack so far.
---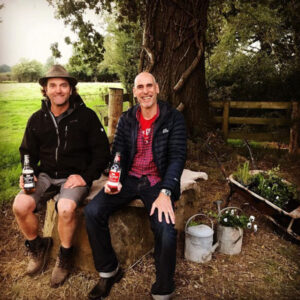 Simon and team did a great job. We love what they have brought to the project. The decor is a delight and the bath is every bit as cool as it looks on screen. Cheers, guys!
And we're hugely grateful for the incredible publicity the programme has given us. The phone has been ringing non stop for since the show went out!
Of course, telly being telly means that all has to be neat and tidy. So My Unique B&B ended with The Cider Shack looking ready to rock. But there's actually a bit work still to be done before guests can snuggle down there for the night.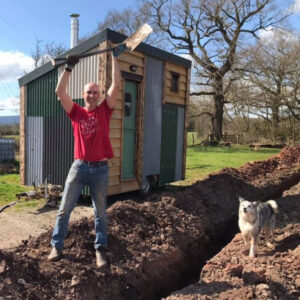 Right now we are in the process of doing the plumbing and completing the kitchen, shower and toilet block.
It's all coming together and we hope to be able to offer bookings from late summer.
If you're interested in a unique, rustic, glamping experience here in Herefordshire's Golden Valley with glorious views of the Black Mountains (and, of course, awesome artisan Ty Gwyn cider made and sold on-site!) ping us your details using the form below and we'll give you a shout when everything is ready!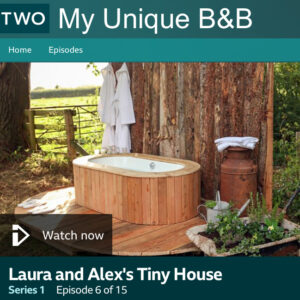 You can also keep an eye on progress by following us on Facebook and Instagram.
In the meantime, check out My Unique B&B on iPlayer – the episode is called Laura and Alex's Tiny House.
Enjoy!

Alex Culpin,
Cider & Melody Maker
Ty Gwyn Cider Limited
---
Be first to know when The Cider Shack opens…